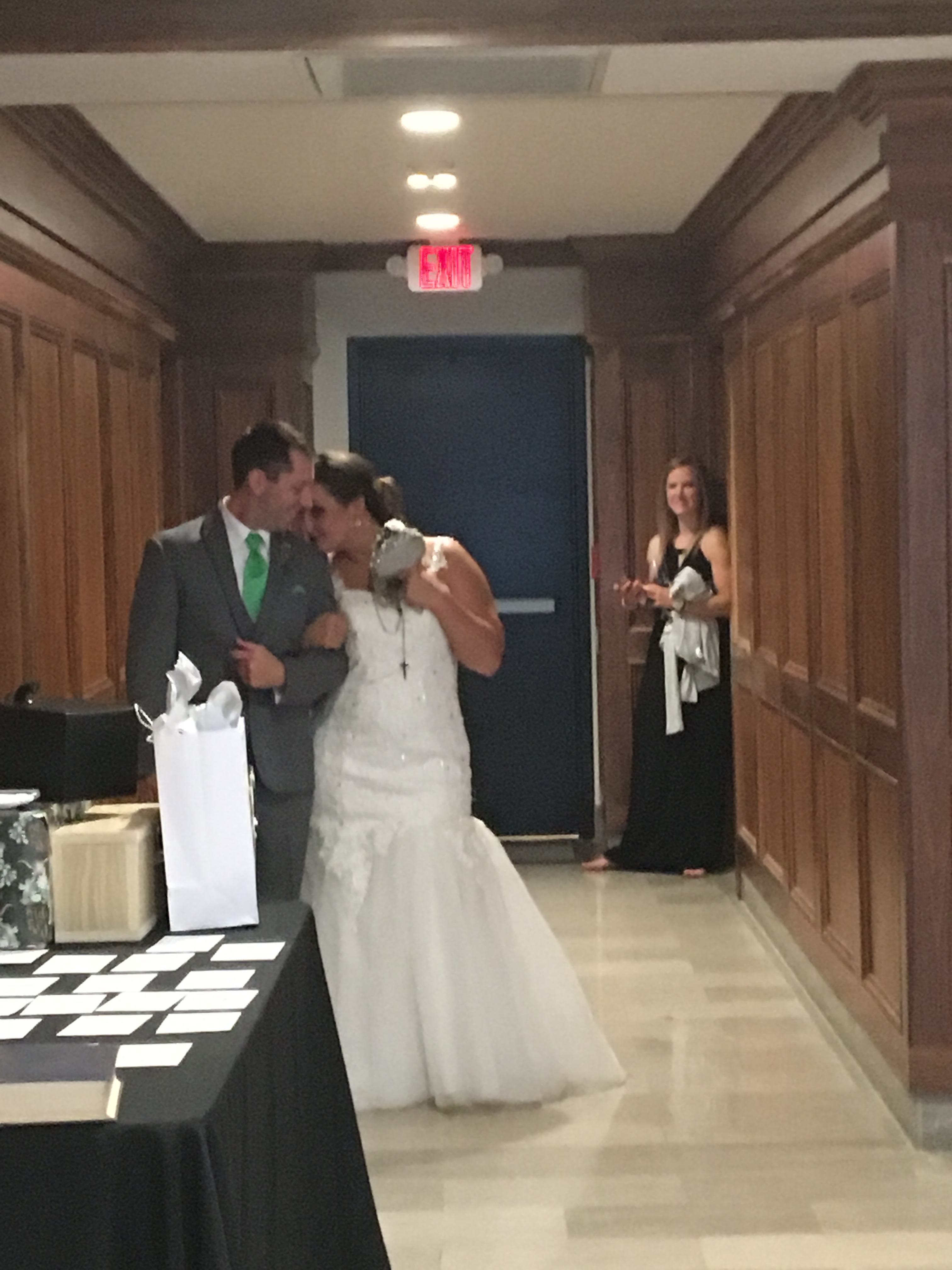 The days leading up to Vanessa and Cameron's wedding at the Providence G located on Dorrance Street in downtown Providence, they were worried about rain.

Providence Gs' Rooftop for the ceremony with white ballroom chairs over looking the beautiful Providence Skyline was the perfect backdrop for their wedding.
The ceremony was absolutely beautiful, not a dry eye, but thank you rain for not pouring on the guests.
Time for Cocktail Hour
Meanwhile in the Ballroom, the staff was setting up.
Silver stiped linens draped the tables with white ballroom chairs and white linen napkins made the ballroom look chic and elegant.  Vanessa and Cameron decided that in lieu of favors, they made a donation to Handsome Dan's Rescue which mission is to according to their website: http://www.handsomedansrescue.org/  To assist with the placement, care, shelter, training, and overall well being of canines in local shelters and other facilities throughout the state of Rhode Island. To raise funds to assist with veterinary care and spay/neuter assistance for canines who may not otherwise obtain such treatment. To raise awareness on the equal treatment of all canines, regardless of breed.  This is such a great idea, helping a local charity at your wedding.
Another great idea is what Vanessa and Cameron did on their wedding invitation: Check out the picture below. We can imagine this couple laughing on their way to their honeymoon reading all of these.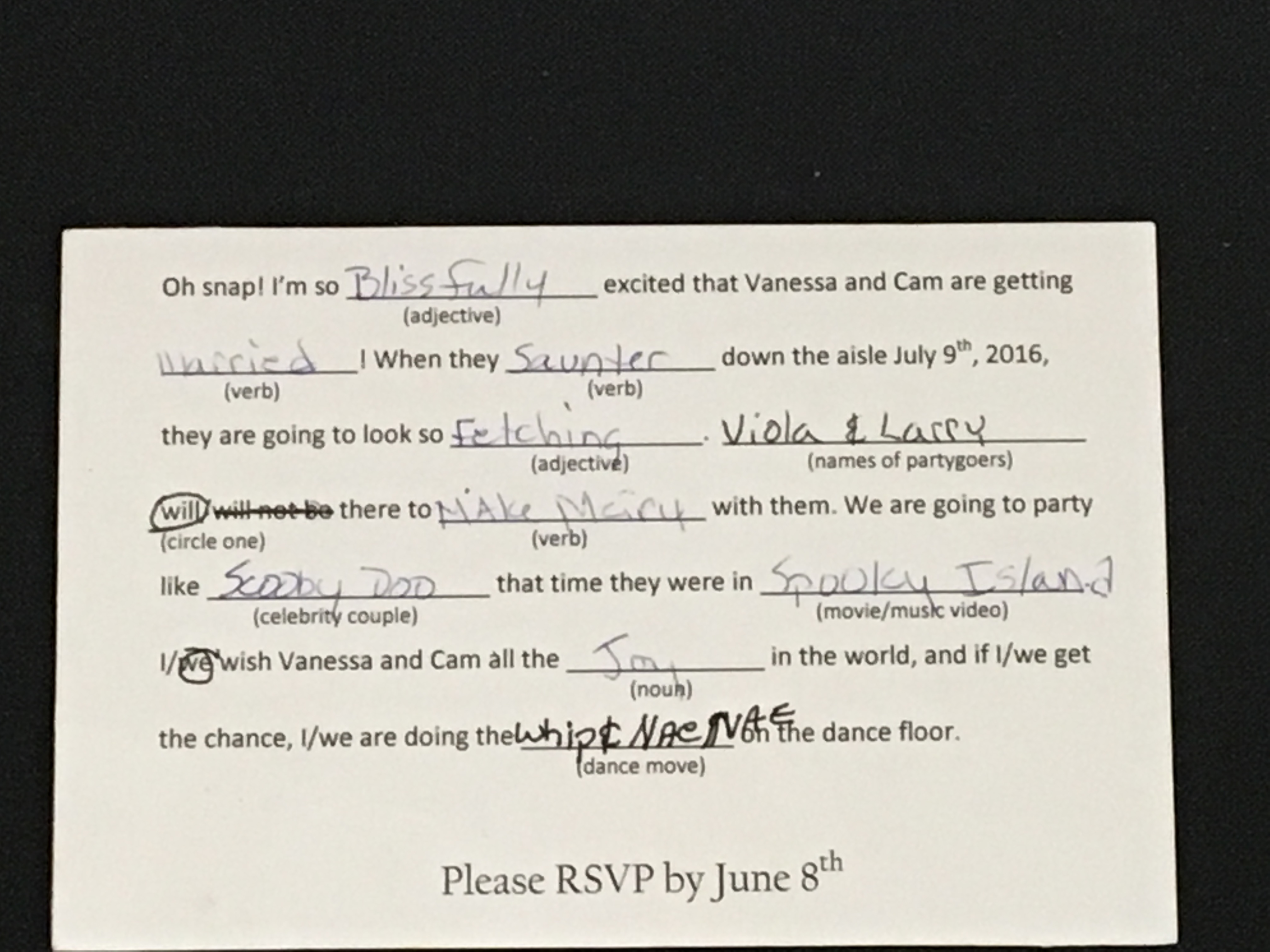 We can't believe we got a picture of Vanessa and Cameron having a moment before they are introduced to their guest. It was so precious we just had to share it.  The first dance is one of the most amazing parts of the wedding besides the Father/ Daughter dance which always get everyone reaching for the tissues.

Romaine Caesar Salad
Hearts of Romaine and than Served with Crouton Crisps, Shaved Parmasean Cheese and Caesar Dressing. Artisan Hearth Baked Dinner Rolls and Butter Rosettes Station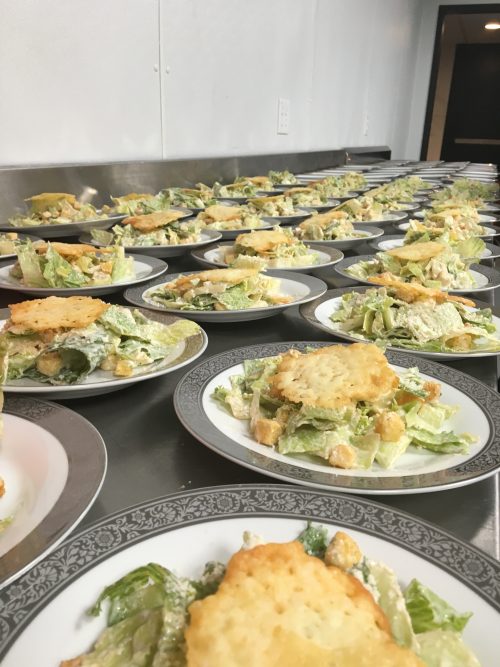 Taste of Federal Hill" Pasta Station
Choose Penne or Tri-Colored Pasta Gently Sauteed Tableside: Chicken Alfredo,Bolognese and Primavera in Pesto.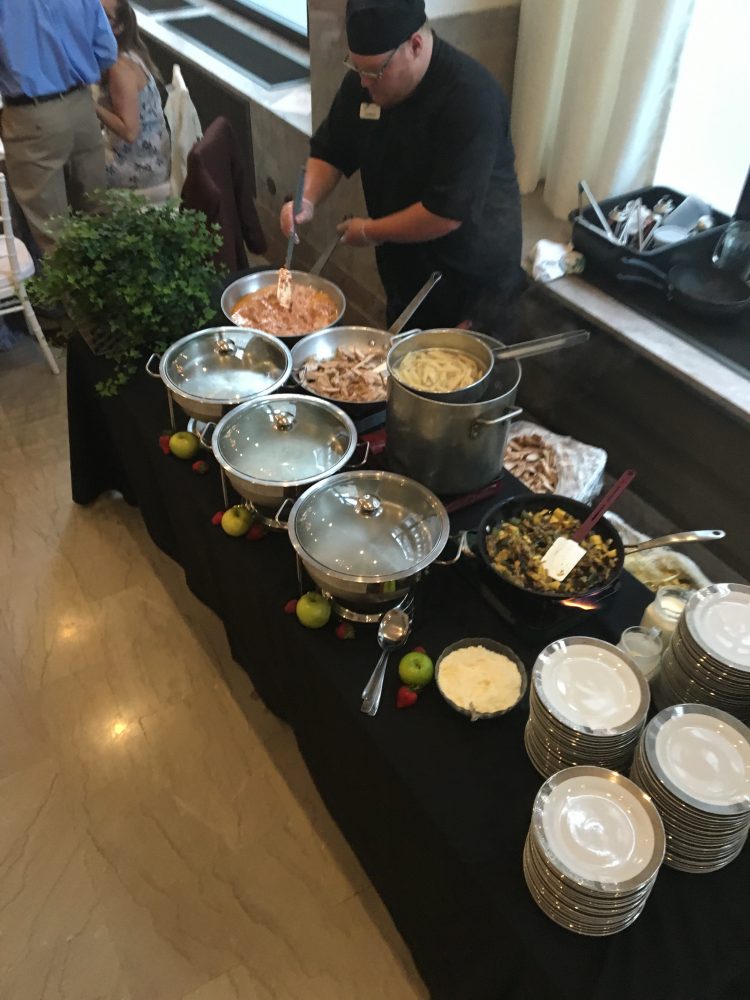 Mashed Potato Station
Your Choice of Yukon Gold Baked Potato, Sweet Potato or Red Bliss Mashed Potato Accompanied by Bacon Pieces, Broccoli, Chives, Sautéed Mushrooms, Sautéed Onions, Shredded Cheese and Sour Cream.
Carving Station:
Prime Rib Of Beef : Accompanied by Creamy Horseradish Sauce Turkey: Blackened, Herb Crusted, or Maple Glazed Served with Cranberry Mayonnaise and Peppercorn Mayonnaise.
Grilled Summer Vegetable Platter
Assorted Grilled Seasonal Vegetables Asparagus, Portabella Mushroom, Red Pepper, Yellow Squash and Eggplant with Crumbed Goat Cheese a Balsamic Glaze