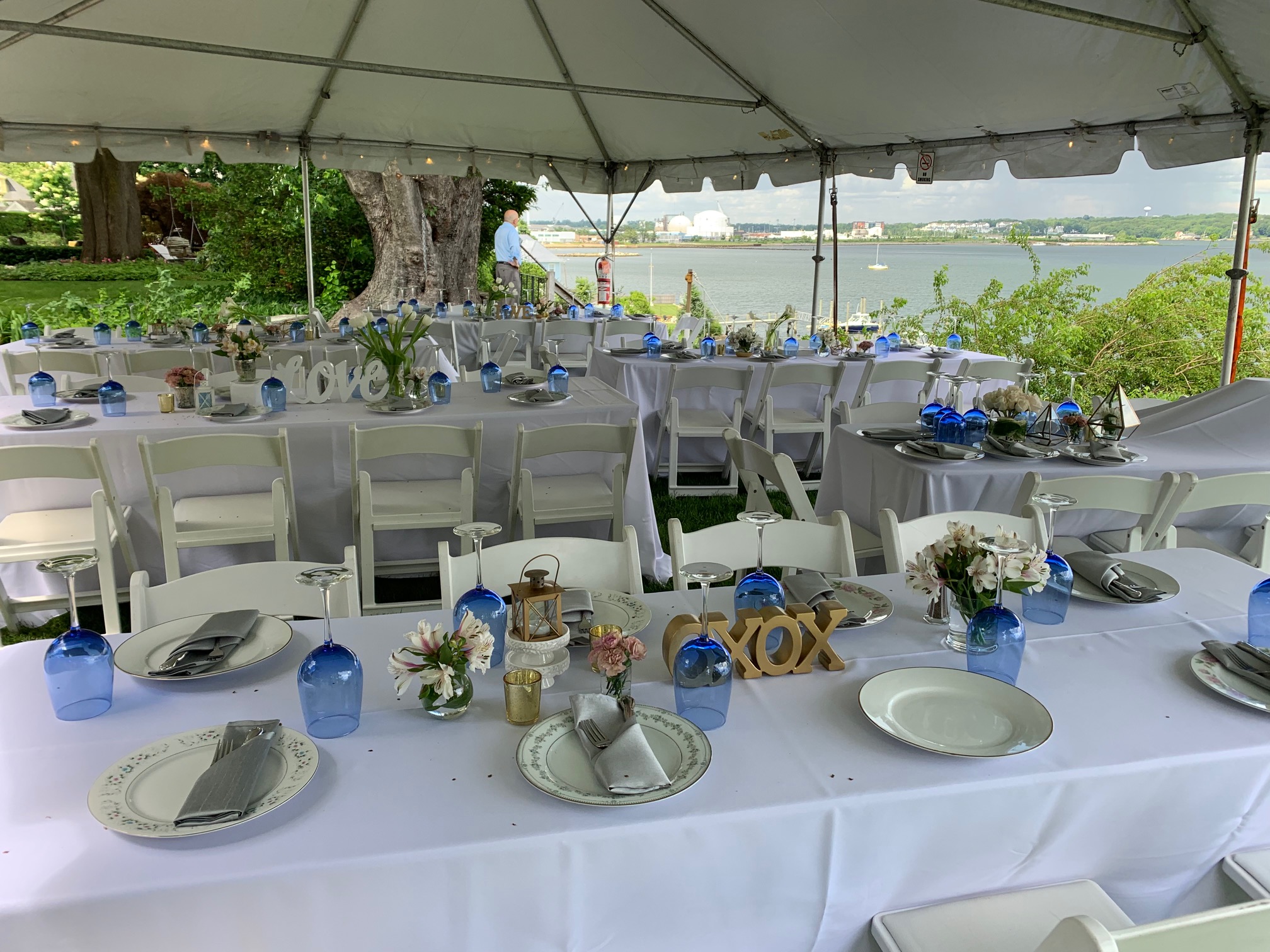 It was a beautiful sunny day with a hint of a thunderstorm on a gorgeous Saturday in Cranston, Rhode Island for Kassie and Chris' Engagement Party. The event was located in a backyard at a private home overlooking Narragansett Bay.  Christine our Catering Sales Manager was working with Nancy and Lorraine to make all the workings of the event go smoothly. Christine arranged for the tent, tables, chairs and linens to be delivered by Rhode Island Rentals in Warwick RI. Nancy and Lorraine had a great vision for their table scape. It was simply devine with the use of family china for plates, blue water goblets and the silver gray linen napkins.
The best thing about engagement parties is that two families get to meet before the wedding occurs. Most the time the two families meet at the rehearsal dinner or not till the wedding day. Engagement parties are like the ice breaker to the festivities of the coming wedding.
New England Clam Chower and Clam Cakes  accompanied a Chaucutier Board and Cheese Display.
Dinner Buffet
Caprese Platter
Fresh Slices of Mozzarella, Sliced Farm Fresh Tomatoes, and Fragrant Basil topped with a Balsamic Glaze
and Olive Oil.
Artisan Hearth Baked Dinner Rolls
Oven Roasted Potatoes
Grilled Vegetable Platter
Seasonal Grilled Vegetables: Red Bell Peppers, Zucchini, Summer Squash, Eggplant,
Mushrooms, Asparagus, Red Onions with a Balsamic Glaze and Goat Cheese on the side.
Carving Station
Sirloin of Beef– Montreal Seasoned Sirloin Carved-or-Order, with a Cabernet Demi,
Fresh Turkey: Maple Glazed
We moved the carving station after dinner, clean up area and put desserts, plates and coffee set
up on the island.
The host to Provide Dessert
Assorted mini Pastries that will be preplatter by Host(s) and will be located in Host(s) refrigerator.
Cozy Caterers provided Fresh Brewed Coffee and Tea
Vendors:
Rentals: Rhode Island Rentals
Catering: Cozy Caterers
Staff: Cozy Caterers
Beverage Catering: Host Provided.