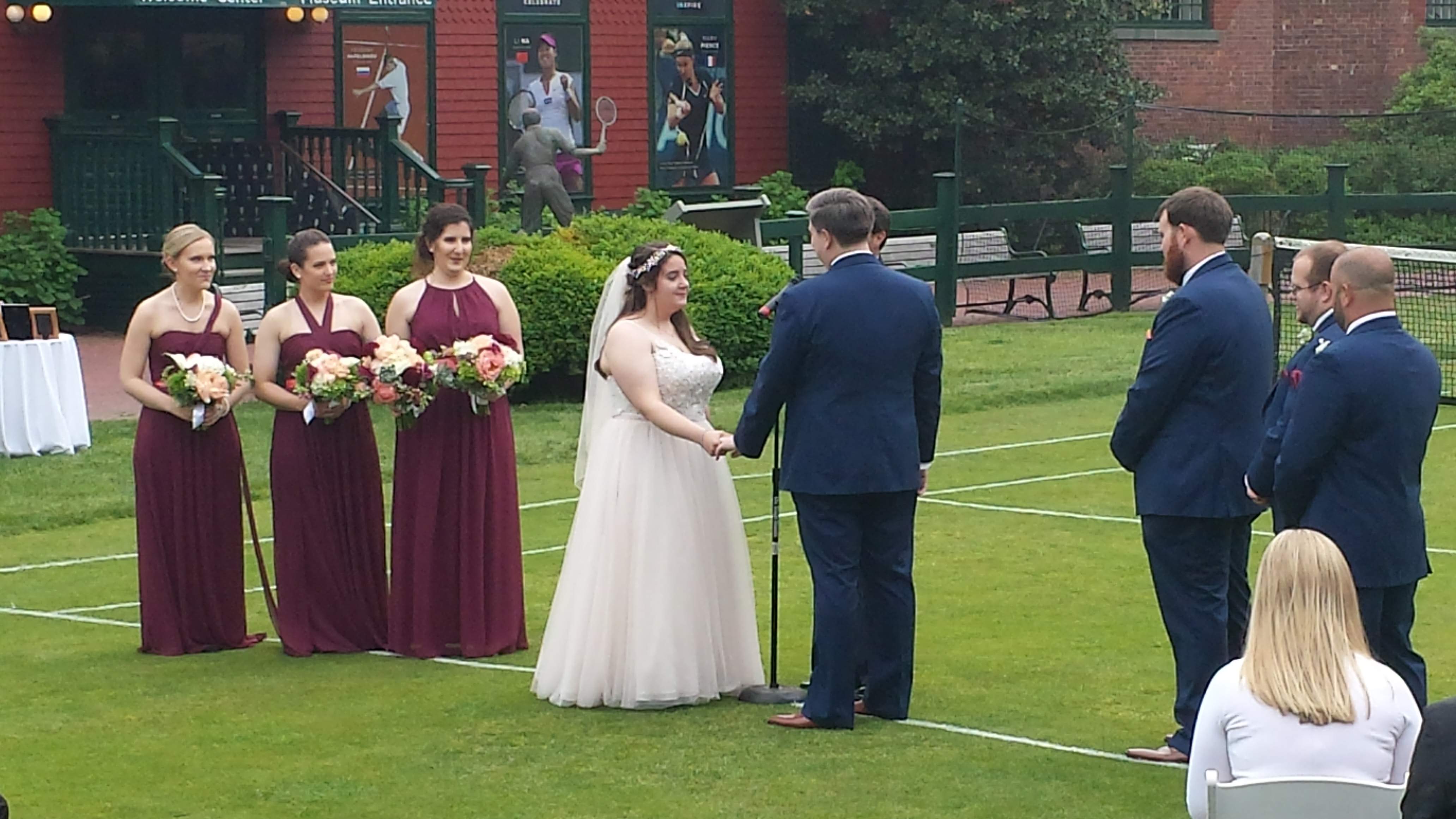 Kayla and Ryan decided on the Tennis Hall of Fame for their backdrop of their wedding on the first saturday in June. How cool is it to be married on the grass tennis courts where worlds famous tennis fenomes have played.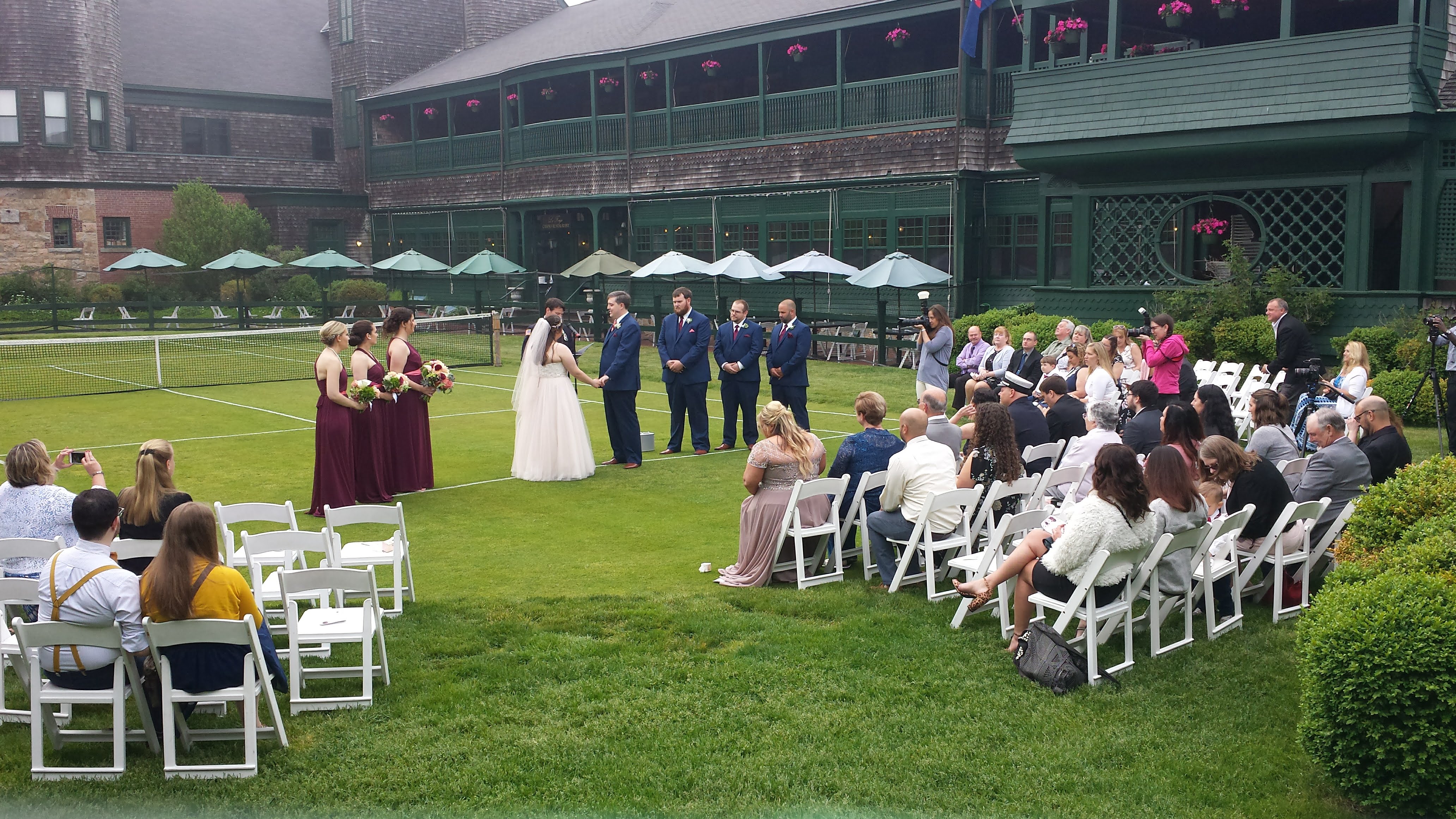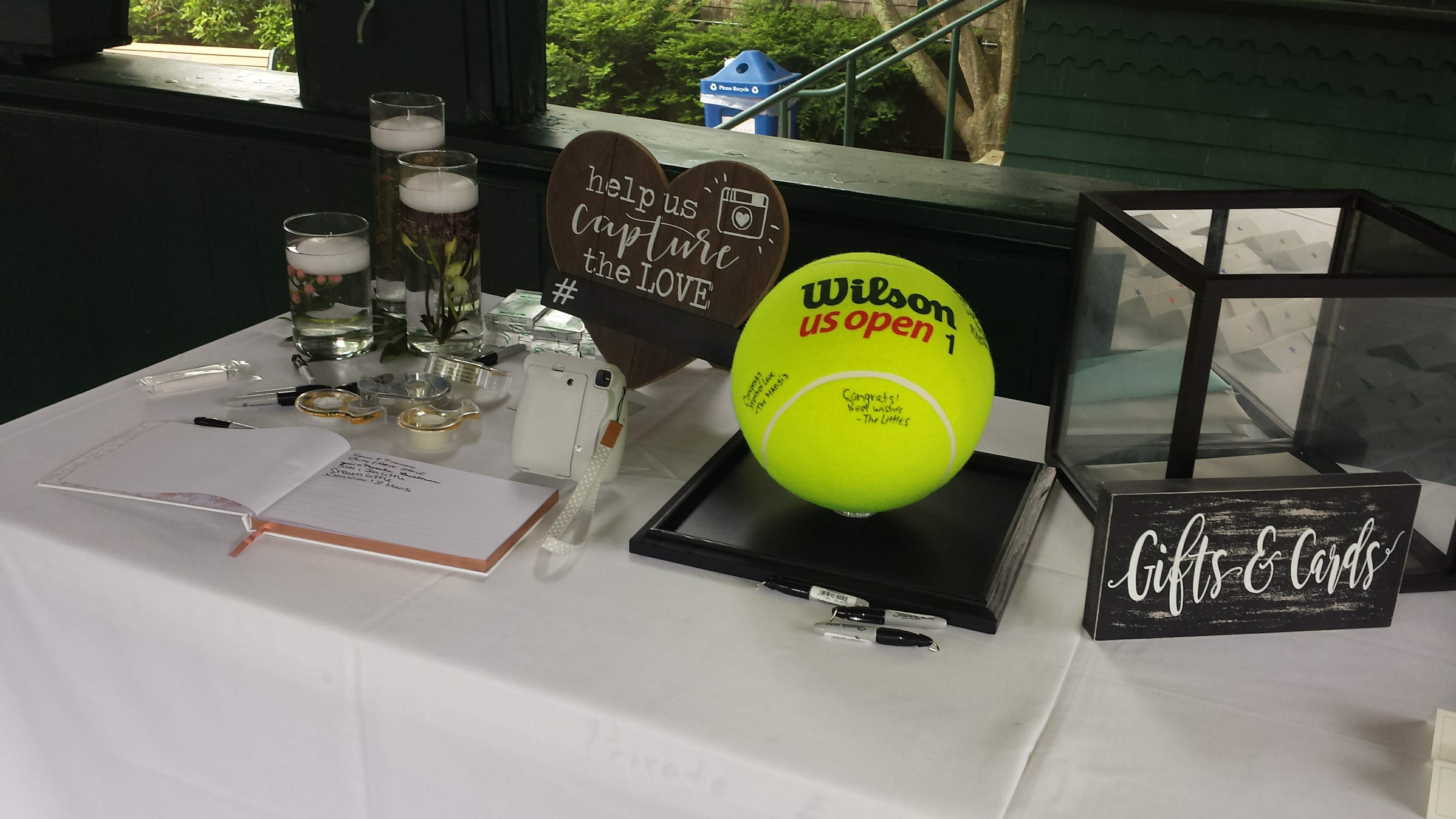 We love this idea for a sign in of the tennis ball.  The polaroid camera is all the rage this wedding season to capture your guest picture.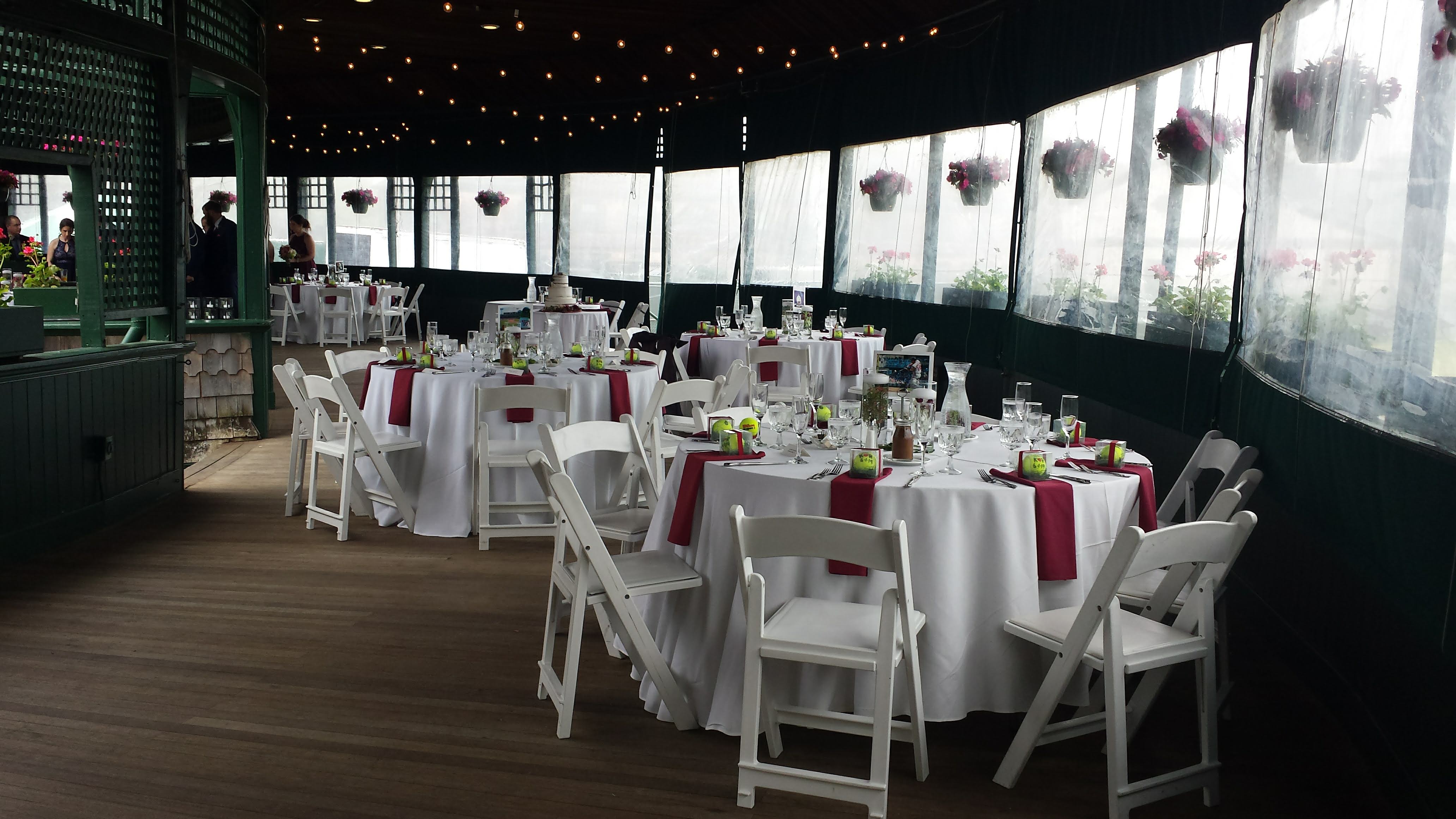 Tables and Chairs provided by Venue: Tennis Hall of Fame
Linens and Tableware provided by: Cozy Caterers
Linen Napkins provided by RI Rentals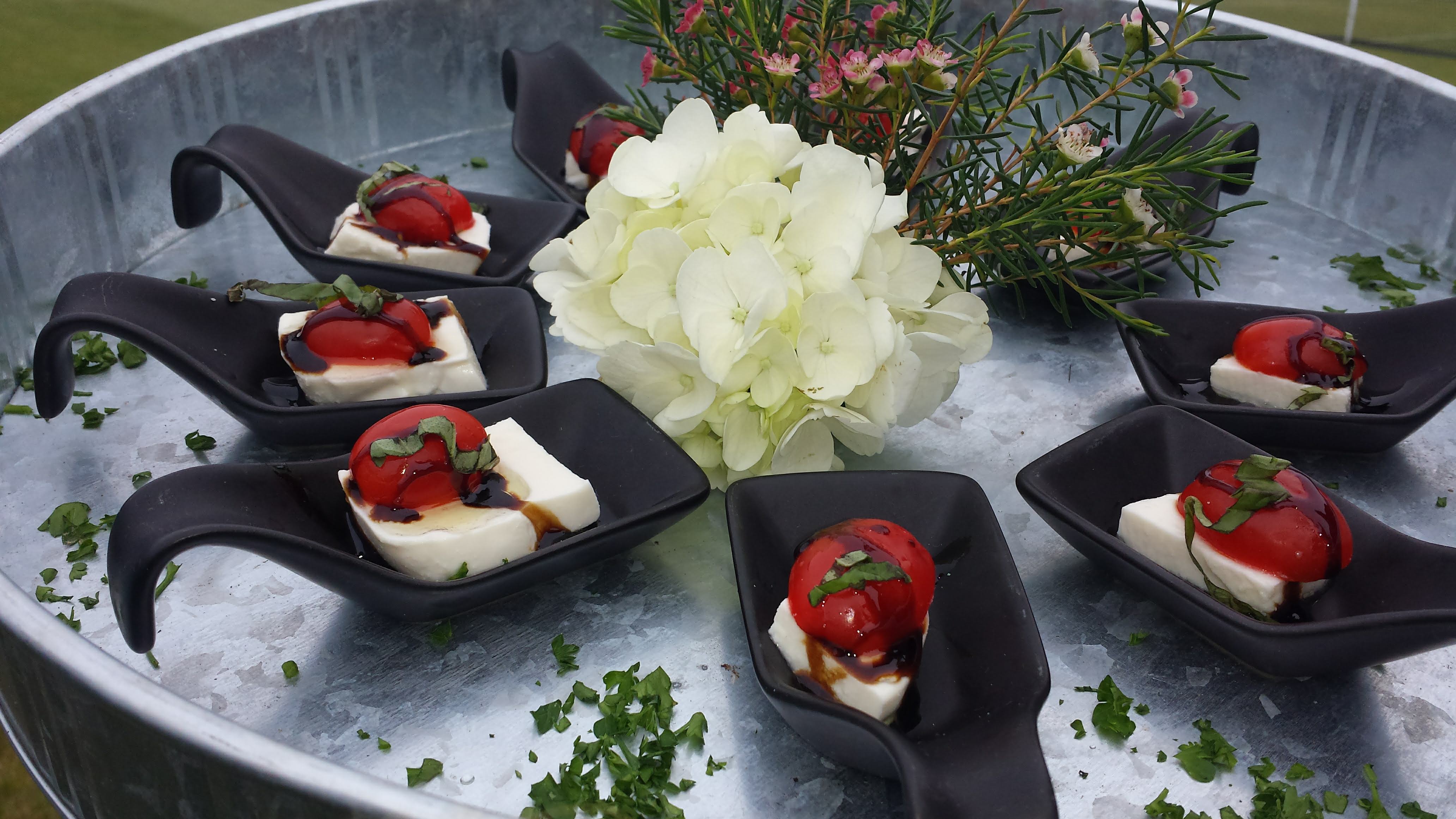 Kayla and Ryan's Wedding Menu
Stationary Hors D'oeuvres on a 60″ Rd. Table
Artisan Cheese Board Display
Served with Fruit Garnish, Assorted Crackers, French Bread and Garlic Crostini
Farm Fresh Vegetable Crudites
Cauliflower, Broccoli, Red Peppers, Carrots, Cucumbers and Celery served with a Sweet Red Pepper Dip or
Curry Dill Dip.
Passed Hors D'oeuvres
New England Clam Chowder Shooter
classic white chowder, crispy clam cake in a Demitasse Cup.
Fried Chicken
with Maple Syrup on a Waffle
South of the Border a festive display to include:
fresh mozzarella, housemade basil oil & housemade balsamic salt (C) GF
Plated Salad
Arugula with Pears
Arugula with Pears and Dried Cranberries, Candied Walnuts, and Crumbled Gorgonzola
Honey Balsamic Vinaigrette
Artisan Hearth Baked Dinner Rolls and Butter
Entree
Chicken Wellinton
Pan Seared Chicken Breast wrapped in Puff Pastry with Mushrooms, onions and gorgonzola Cheese.
Served with a Parmasean Cream Sauce
Land and Sea Chicken – Midtown
Herb Marinated Chicken Breast topped with Jumbo Baked Stuffed Shrimp
Vegetarian Selection
Roasted Vegetable Napoleon
Portabella, Zucchini Squash and Roasted Bell Pepper- With Roasted Tomato Basil Sauce. (VEGAN/GF)
Herb Roasted Yokun Gold Potatoes
Green Bean Almondine
Flavorful Green Beans Almondine is a healthy and delicious
Kids Menu
Crispy French Fries
with katchup
Chicken Fingers
Crispy Chicken Finger with BBQ Sauce
Beverage Catering:
Deluxe Wedding Package provided by Cozy Caterers
Review:
Kayla Alves
, married on 06/01/2019
Incredibly Friendly and Accommodating
Working with Cozy catering was very easy, they are more than willing to work with couples and give you what you are looking and hoping for. If i were to do my wedding again i would still use Cozy as my caterer