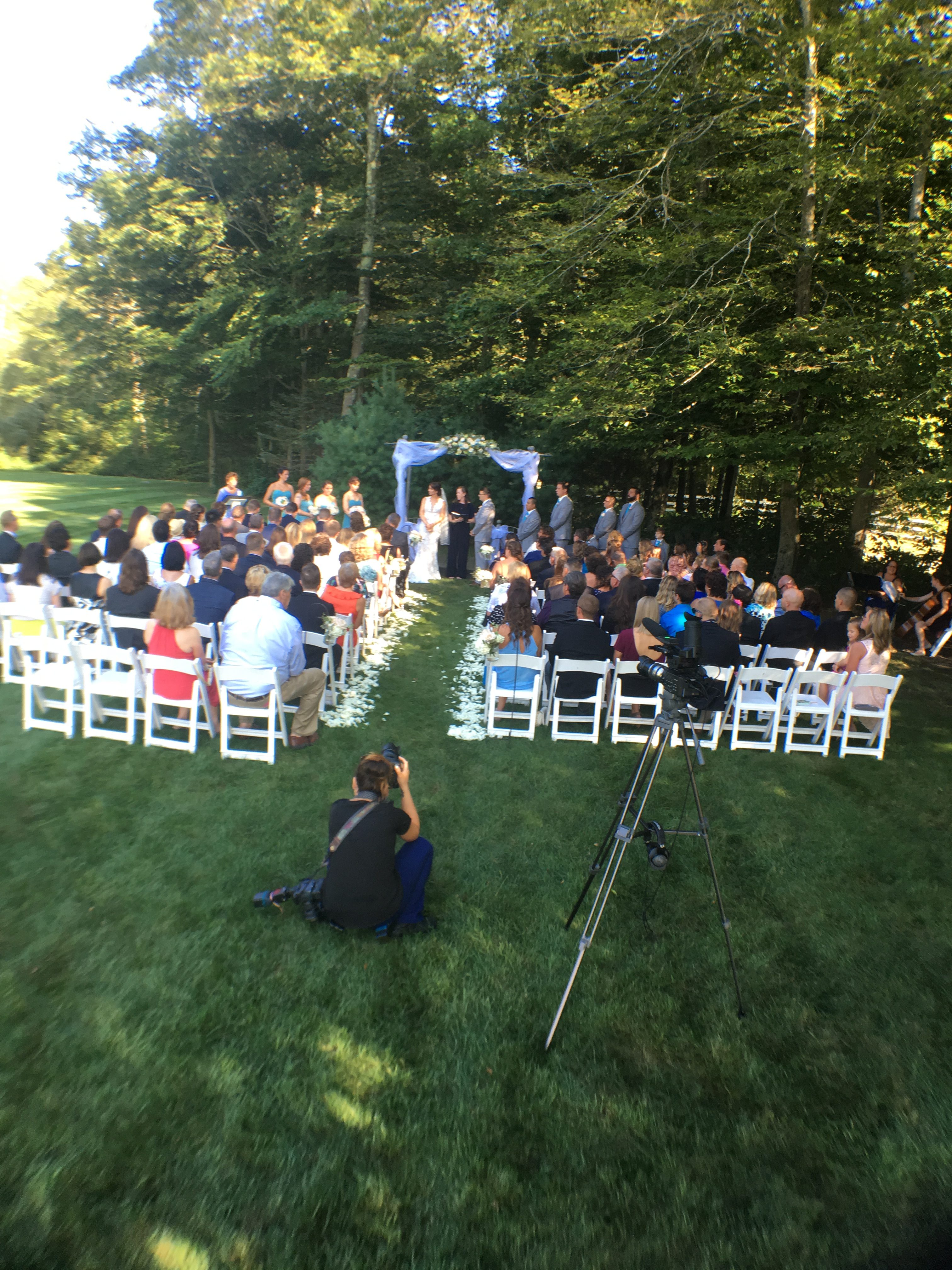 A Five Bridge Inn Wedding has everything a wedding couple is looking for in a venue with manicured grounds, beautiful landscaping and animals in the barnyard. There are tennis and basketball courts, a pavillion area for your cocktail area and a place to stay on the night of your wedding.
On August 20th we walked into Kristen and Tim's Wedding, you just knew that it was going to be fun when you saw a corn hole, a ring toss (obviously not the bride and grooms rings) and another tossing game.
Time to set up the tent.
Ceremony on the Ground of Five Bridge Inn.
Tim & Kristen Menu
Stationary Hors D'oeuvres
Assorted Cheese & Crackers -A Beautiful Table Display of Domestic Cheeses and a Medley of Gourmet Crackers. Strawberries and Grapes to accent.
Passed Hors D'oeuvres
Fried Mac and Cheese Bites With marinara sauce.
Sweet Potato Pancake with Rhode Island Apple Chutney Crab
Stuffed Mushrooms
Plated Salad
Farmers Market Garden Salad Tomatoes, Cucumber and Red Onions Served with Balsamic Dressings.
Fresh Rolls and Butter
Entrée one:
Wild Mushoom Chicken Marsala Chicken Sautéed in Marsala Wine with Shitake and Crimini Mushrooms
Wild Rice with Mushrooms
Roasted Seasoned Green Beans
Entrée two:
New York Strip Onion Demi
(We actually do grill on the premise of the venue)
Baby Red Bliss Potatoes with Rosemary and Garlic
Roasted Seasoned Green Beans
Vegetarian Selection
Acorn Squash Stuffed with Quinoa, Cranberry, Pistachios, and Seasoned with Fall Spices. VEGAN/GF
Baby Red Bliss Potatoes with Rosemary and Garlic
Dessert and Coffee Station
Mini Pastries and Candy Buffet (Host to Provide)
After dinner, Mark and his Service team set up the mini desserts and candy buffet. Along with the dessert was;
Fresh Brewed Coffee with Cream and Sugar
Fresh Brewed Decaffienated Coffee
Hot Water for Assorted Tea With Herbal Tea's
Kids Menu
Pasta with Butter on it! Mini Slider Burger With Ketchup, Relish and Mustard (2 per. Kid)
French Fries with katchup
Mom/ Son Dance & Daddy Daughter Dance
We really enjoyed working with Tim and Kristen. We wish them the best of luck in their future.
Venue:Five Bridge Inn
Location: Rehoboth, Massachuetts
Caterer: Cozy Caterers