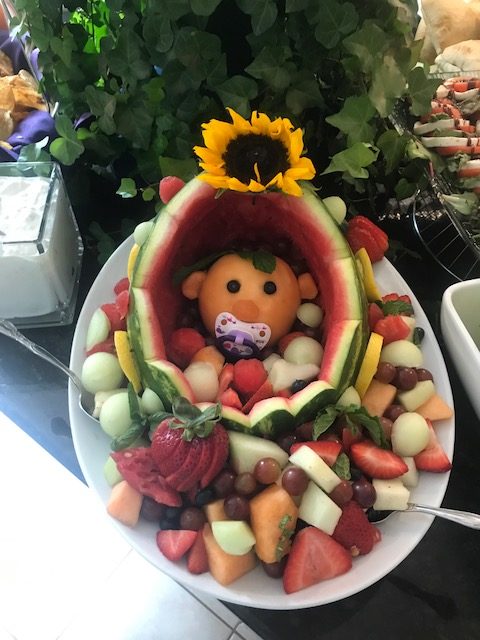 We were invited to a private residence for Diana's baby shower. The menu consisted of:
Cold Stationary
Baby bassinet Fruit Bowl Salad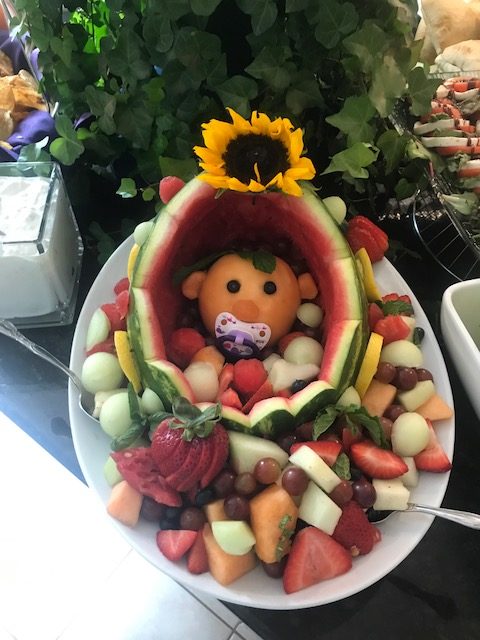 Our Executive Chef Alicia made this for the baby shower. When the director of catering came into our commissary he noticed that Alicia had put in a pink pacifier so he asked if she knew something everyone else didn't know. She had thought he told her is was a girl so she exchanged the pink pacifier for a purple one instead and used mint for the hair. It was quite the funny ordeal. Alot of the guest were taking pictures of this fruit baby.
Guests were telling our staff that they never saw a Fruit baby on Pinterest.
Sandwich Station
Homemade Chips Station with Gorgonzola Cream Dip.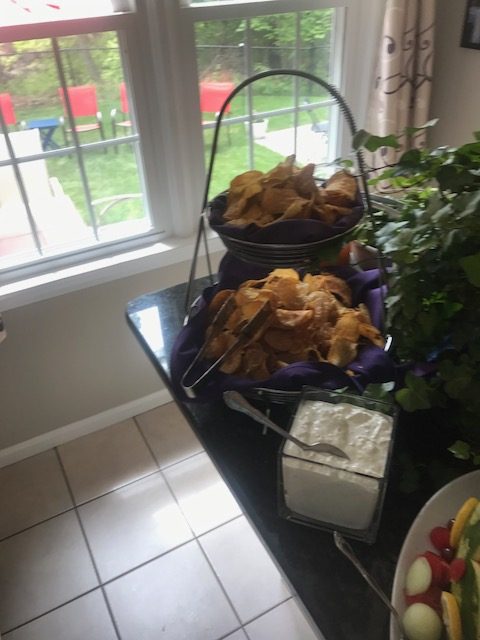 Roasted Vegetable Cous Cous Salad Cous Cous with Roasted Vegetables
Strawberry Salad  with Warm Goat Cheese Croutons mixed baby Spinach, sliced fresh strawberries, Toasted pecans, cool cucumber. rounds of breaded and fried goat cheese. To prepare the goat cheese croutons Serve with Strawberry-Poppy Seed Vinaigrette.
Grilled Steak Sandwiches with Goat Cheese and Arugula On a Baguette: Thinly slice steak, Goat cheese, onion, and arugula with Horseradish.
Chicken and Marinated-Zucchini Sandwich On a Italian bread with marinated zucchini, shredded chicken, toasted almonds, and fresh Pesto and romaine lettuce leaves.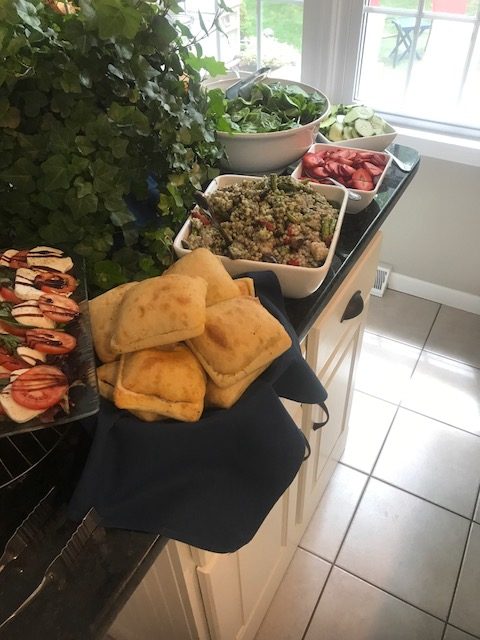 Focaccia Caprese On a Foccacia: Vine Ripened Tomatoes, Fresh Mozzarella, Basil, Romaine and Arugula Drizzled with Olive Oil and Cracked Black Pepper.
Chicken "Cozy" Style bow tie pasta, Boneless Breast of Chicken with Spinach, Roasted Garlic and Sun-Dried Tomatoes in a White wine cream sauce.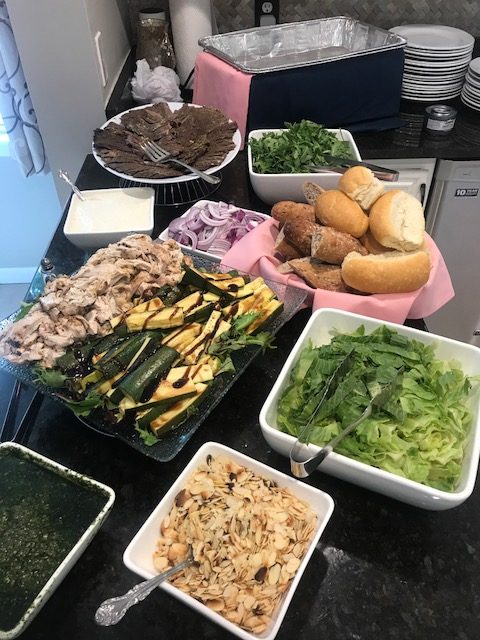 Dessert
Fresh Baked Cookies and Brownies Fresh Baked Cookies and Brownies. Garnished with Strawberries
Testimonial from our client Valerie:
"Thank you for another phenomenal event. Everyone was raving about the food."
Venue: Private Residence
Linens: Metropolitan Linen
Decor: Mark Brown- Cozy Caterers