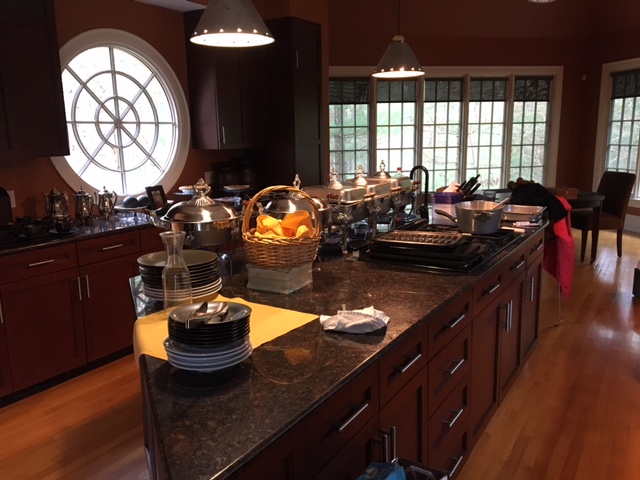 Every year we get to cater Thanksgiving dinner for families throughout Rhode Island. This family dinner was nestled in the country side of North Smithfield, RI in a house that looked like it came out of a vintage hallmark holiday card. Sometime we have to pinch ourselves by say OMG, we get to work here for the day.
The staff arrives three hours before the guests arrive to prep the dinner and cook the turkey on site so the house has the smells of the holiday season. Potatoes are boiling away on the stove to make mashed potatoes, Cornbread Stuffing is prepared and finished in the oven along side Roasted Brussel Sprouts with Bacon and Shallots. OMG, did we mention the bacon. Yes, you can't forget bacon anytime of holiday season. Its a staple like pumpkin and apple pie which was for dessert.  Our onsite catering Chef Christine was having fun working on Thanksgiving by taking a selfie with the beautiful turkey. She carved it and served in a beautiful platter to serve to the guest.
Thanksgiving is the time to be grateful for family, friends and everything we have around us. Check out some of the pictures of the days events.

Here is the Full Menu:
THANKSGIVING DINNER
Dinner Buffet
Fall Mixed Farmers Green Salad with Spiced pecans, Caramelized Apple, Berkshire Blue Cheese and a Apple champagne Vinarelle
Cranberry Relish and Dinner Rolls
Sausage and Sage Stuffing with Homemade Cornbread and Fresh Vegetables.
Traditional Herb Roasted Turkey with Pan Gravy.
Yukon Gold Mashed Potatoes
Roasted Autumn Vegetables With Shallots and Garlic
Brussels Sprouts Roasted with Shallots and Bacon
Dessert Station
Dutch Apple Pie
 Pumpkin Pie Fresh
Brewed Coffee with Cream and Sugar
Fresh Brewed Decaffienated Coffee
Catering Equipment and Linens provided by: Cozy Caterers
Located: Private Residence in North Smithfield, RI 
We had 10 guests with 1 Waitstaff and 1 Chef onsite.